Work in Canada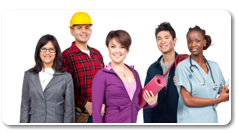 The Government of Canada continues to accept foreign workers to help Canadian employers alleviate labor shortages, or to work as live in caregivers. A work permit is needed on most temporary jobs however some do not require a work permit.

To apply for a work permit, you must have the following documents:
A job offer from a Canadian employer
A completed application, that shows that you meet the requirements of the Immigration and Refugee Protection Act and the Immigration and Refugee Protection Regulations, and
Valid positive LMIA (Labour Market Impact Assessment) from Human Resources and Skills Development Canada (HRSDC) that the employer can hire a foreign worker to fill the job. In some cases, you do not need a labour market opinion.
You must also do the following:
Satisfy a visa officer that you will leave Canada at the end of your work permit.
Show that you have enough money to support yourself and your family while you are in Canada.
Respect the law and have no criminal record.
Show that you are not a risk to the security of Canada.
Be in good health. (You may need to undergo a medical examination.)
Employers
Canadian employers can hire foreign workers under certain circumstances. Employers can hire a foreign worker temporarily or can offer a full-time job to a skilled worker and support their immigration to Canada.
Hiring a temporary foreign worker
Employers from all types of businesses can recruit foreign workers with a wide range of skills to meet temporary labour shortages.
To be eligible in hiring foreign workers, employers must meet the following conditions:
you cannot find suitable Canadians or permanent residents to fill the jobs
bringing the workers to Canada will not have a negative impact on the Canadian labour market, and
you meet all other requirements and conditions.

Best Care Immigration helps employers in finding the suitable temporary foreign workers that best suit their requirements. We also engage in processing the application for Labour Market Opinion and the work permit of the selected foreign worker.
Work as Caregivers
Caregivers are persons who can provide care for children, elderly persons or persons with disabilities in private homes without supervision.
The caregiver must meet the following requirements to be eligible for the program.
A positive Labour Market Impact Assessment (LMIA) from an employer in Canada,
A written contract with the future employer, signed by caregiver and the employer
Successful completion of the equivalent of a Canadian secondary school education
At least six months' training or at least one year of full-time paid work experience as a caregiver or in a related field or occupation (including six months with one employer) in the past three years
Good knowledge of English or French
A work permit before entering Canada
The employer must meet the following requirements before they can hire a foreign caregiver.

Must first show sufficient effort to fill the position with a Canadian, a
Must have sufficient income to pay a live-in caregiver;
Must make a job offer that has primary care-giving duties for a child or
Must submit an application for a Labour Market Impact Assessment permanent resident or a foreign worker already in Canada;
an elderly or disabled person and
(LMIA) with the employment contract to Human Resources and
Skills Development Canada/Service Canada (HRSDC/SC).