Investors, Entrepreneur and Self Employed persons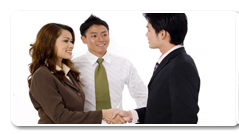 This program is for experienced business people who want to invest in, or to own and manage their own business in Canada

The criterion you must meet to qualify are different for each class. Find out below if you can immigrate based on one of these programs:
Investors
Entrepreneurs
Self-Employed Persons
Investor:
The Federal Immigrant Investor Program is now closed The cap does not apply to the Quebec Immigrant Investor Program.
Entrepreneur:
CIC has temporarily stopped accepting applications for the federal entrepreneur program. Only applications received before July 1, 2011, will be processed. This suspension will continue until further notice.
Self Employed Person:
The Self-Employed Persons Program is for applicants who have the intention and ability to become self-employed in Canada. Self-employed persons are required to have either:
relevant experience that will make a significant contribution to the cultural or athletic life of Canada, or
Experience in farm management and the intention and ability to purchase and manage a farm in Canada.